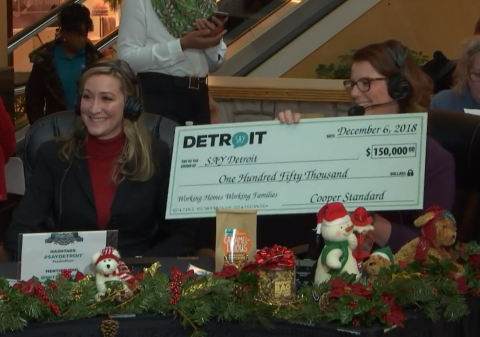 For several years Cooper Standard has partnered with S.A.Y. Detroit to help improve our community. The S.A.Y. Detroit family of charities which were founded by Mitch Albom, renowned journalist and longtime community partner, include: SAY Play Center, SAY Detroit Family Health Clinic, Working Homes / Working Families and A Time to Help. Cooper Standard and S.A.Y. Detroit have taken on many initiatives and several CS employees from around the world have engaged in volunteer activities with these charities.
In 2008, Cooper Standard helped S.A.Y. Detroit opened the nation's first free medical clinic devoted to homeless children and their mothers. The clinic gives care to approximately 4,000 patients annually. Since then, this partnership has evolved to include new community partners and in 2013, Cooper Standard and Dow Chemical opened the Science in the DEEP (Digital Educational Enrichment Program) center at S.A.Y. Play Center in Detroit, MI. Cooper Standard and Dow's STEM teams create and carry out several programs during the year to support the center including robotics camps and tutoring. Alongside Working Homes / Working Families, to date, Cooper Standard employees have helped build six playgrounds/parks, revitalized a community recreation building and refurbished ten homes donated to working homeless families.
On December 6th, Mitch Albom held the seventh annual Radiothon to raise funds for S.A.Y. Detroit. Cooper Standard was proud to participate in the Radiothon to talk about our partnership and help hand off the keys to a home our employees renovated in October. During the Radiothon a total of $1.2 Million was raised for S.A.Y. Detroit.